A 'Klargester ' Septic Tank installation in the Staffordshire Moorlands area. This is connected to the soakaway system. Various sizes of septic tank are available to suit the size of the property.
Local stockist: Lester Lowe Ltd and Hangar 4 – both in the Ashbourne area
This is a conventional septic tank which is connected to a 'soakaway'.  The tank will require emptying periodically by an approved  environmental service contractor.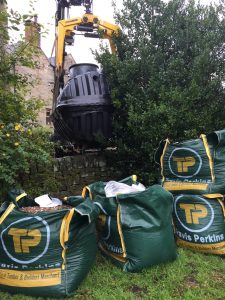 For domestic dwellings without access to mains drainage, the BioDisc  sewage treatment plant provides a reliable, efficient and environmentally safe solution to your sewage disposal needs. Ideal for locations where discharge is to a sub-surface irrigation (soakaway), or to a suitable watercourse – approved by the Environmental agency and where a septic tank will not meet the required standards